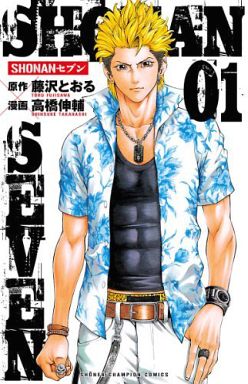 Alternative Name : 湘南七人, SHONAN セブン
Genre(s) : Action, Comedy, Drama, Ecchi, School Life, Shounen
Author : FUJISAWA Tohru
Artist : TAKAHASHI Shinsuke
Years : 2014
Status in Country of Origin : 06 Volumes (Ongoing)
Determined to proclaim the title of "Shonan's strongest", Ikki Kurokami enrols at the reputable Tsujido High School (where the legendary Oni-baku duo, Eikichi Onizuka and Ryuji Danma previously attended) and yearns to become part of the Shonan Seven, a group of members selected to represent their school to fight in a tournament to determine the strongest school in Shonan. However, in order to earn a place as one of the "selected members", he must first battle his way to the top. It seems that this year, there are many powerful entrants who also want to compete for a spot.
RAW Manga Shonan Seven Volume 01-06 | SHONANセブン 第01-06巻
Volume 01-06 – CatShare | RawFiles | FastStore | Mirror | UpLoaded | RapidGator