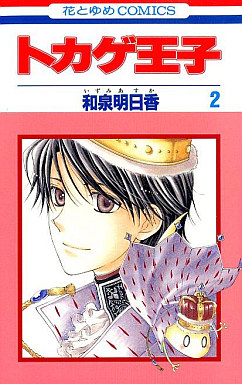 Alternative Name : トカゲ王子, 蜥蜴王子, Cold Burn, Harebrained Bunny, Insensible Bunny, Lizard Prince, Low Temperature Burn, My Little Prince
Genre(s) : Comedy, Fantasy, Romance, Shoujo
Author : IZUMI Asuka
Artist : IZUMI Asuka
Years : 2003
Status in Country of Origin : 02 Volumes (Complete)
Princess Canary is to go to an omiai with Prince Heath, a prince from another kingdom known for his flirting with women, drinking and gambling. She agrees but only to have the chance to preach to him about the way he rules his kingdom. Prince Heath is completely opposed to the idea and instead of going, gives his pet lizard a potion to turn him into an exact duplicate so that he may replace him.
But when the lizard and Princess Canary meet, she is surprised to find herself falling in love with the prince thinking the rumors may not be true at all. What will happen when she discovers that the prince she's falling in love with is actually a lizard? And what about the lizard, himself? Will he be content living as a lizard once he's had a taste of what being human is like?
RAW Manga Tokage Ouji Volume 01-02 | トカゲ王子 第01-02巻
Volume 01-02 – CatShare | RawFiles | FastStore | Mirror | UpLoaded | RapidGator