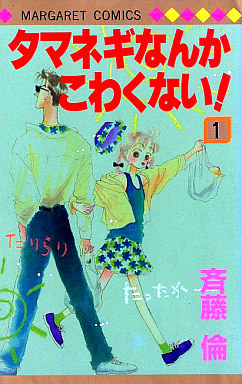 Alternative Name : タマネギなんかこわくない!, I'm Not Afraid of Onions!
Genre(s) : Shoujo
Author : SAITO Rin
Artist : SAITO Rin
Years : 1990
Status in Country of Origin : 03 Volumes (Complete)
A girl (Kiyora Morinouchi) on the way to school literally runs into a scary-looking man with a scar and sunglasses (Junichiro Yaguchi) who drops a butcher knife when she knocks him down. She immediately thinks he's a member of the local yakuza.
After quickly collecting her things, Kiyora heads to school only to find out the scary man she ran into is not only her homeroom teacher, but her home economics/cooking teacher as well (hence the butcher knife). She's not a very good cook, so her Yaguchi-sensei assigns her to make a bento (box lunch) for him every day until she gets it right.
RAW Manga Tamanegi Nanka Kowakunai! Volume 01-03 | タマネギなんかこわくない!第01-03巻
Volume 01-03 – CatShare | RawFiles | FastStore | Mirror | UpLoaded | RapidGator