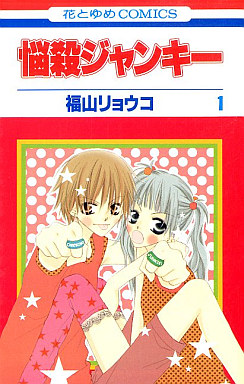 Alternative Name : 悩殺ジャンキー, 色誘中毒, 迷戀Junkie, 뇌쇄미인, Charming Junkie, Nosatsu Junkie
Genre(s) : Comedy, Gender Bender, Romance, School Life, Shoujo
Author : FUKUYAMA Ryoko
Artist : FUKUYAMA Ryoko
Years : 2004
Status in Country of Origin : 16 Volumes (Complete)
Naka is an aspiring young model with a problem: her face tenses up into a terrifying spectacle whenever she gets nervous on photo shoots! Naka's rival is Umi, the hottest model at their agency. But Naka soon discovers Umi's secret–and hilarity ensues behind the cameras!
RAW Manga Nousatsu Junkie Volume 01-08 | 悩殺ジャンキー 第01-08巻
Volume 01-03 – CatShare | RawFiles | FastStore | Mirror | UpLoaded | RapidGator
Volume 04-05 – CatShare | RawFiles | FastStore | Mirror | UpLoaded | RapidGator
Volume 06-07 – CatShare | RawFiles | FastStore | Mirror | UpLoaded | RapidGator
Volume 08_ _ – CatShare | RawFiles | FastStore | Mirror | UpLoaded | RapidGator