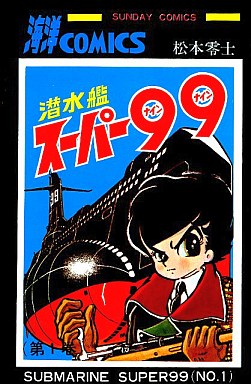 Alternative Name : 潜水艦スーパー99, Submarine Super 99
Genre(s) : Action, Adventure, Mecha, Shounen
Author : MATSUMOTO Leiji
Artist : MATSUMOTO Leiji
Years : 1964
Status in Country of Origin : 02 Volumes (Complete)
In the future the world is taken over by the Ocean Empire. The Earth's only hope lies with the Super 99, a submarine designed by Dr. Juzou Oki.
The story follows Susumu Oki, the chief mechanic of the SS-99 and the adventures he and the other crew members take on the SS-99 to save Earth.
RAW Manga Sensuikan Super 99 Volume 01-02 | 潜水艦スーパー99 第01-02巻
Volume 01-02 – CatShare | RawFiles | FastStore | Mirror | UpLoaded | RapidGator