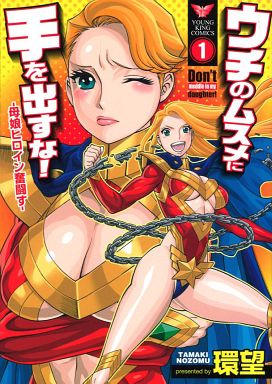 Alternative Name : ウチのムスメに手を出すな! ―母娘ヒロイン奮闘す―, Don't Meddle In My Daughter!, Don't Meddle With My Daughter!, Keep your Hands off my Daughter!, Uchi no Musume ni Te o Dasu na!
Genre(s) : Action, Comedy, Ecchi, Mature, Seinen
Author : TAMAKI Nozomu
Artist : TAMAKI Nozomu
Years : 2014
Status in Country of Origin : 03 Volumes (Complete)
The story follows a super heroine who stepped back and retired a decade ago. She withdrew to a humble life as a homemaker with her daughter. However, her beloved daughter was selected to become the next-generation heroine, so she returns to protect her daughter.
RAW Manga Uchi no Musume ni Te o Dasu na! – Oyako Heroine Funtousu Volume 01-03 | ウチのムスメに手を出すな! 母娘ヒロイン奮闘す 第01-03巻
Volume 01 – CatShare | RawFiles | FastStore | Mirror | UpLoaded | RapidGator
Volume 02 – RawFiles | FastStore | Mirror | UpLoaded | RapidGator
Volume 03 – CatShare | RawFiles | FastStore | Mirror | UpLoaded | RapidGator