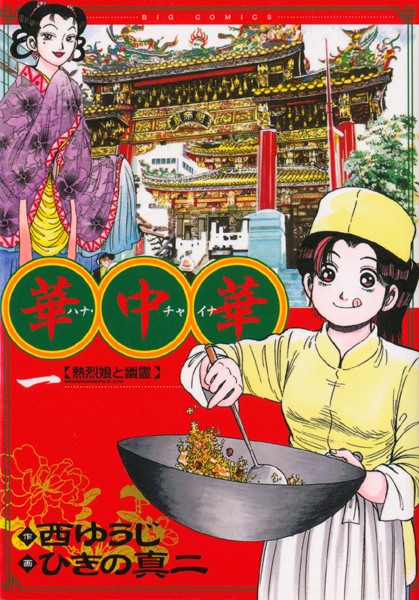 Alternative Name : 華中華, Central China Blossom, Yokohama Chinatown Fantasy
Genre(s) : Seinen
Author : NISHI Yuji
Artist : HIKINO Shinji
Years : 2005
Status in Country of Origin : 19 Volumes (Ongoing)
Hanako Nakamura, apprentice chef who worked at the famous restaurant in Yokohama's Chinatown, Manten restaurant, aspires to be number one chef in her village. One day he meets the ghost of a concubine, concubine of Emperor Xuanzong's favorite, who taught her to make delicious fried rice. How is the taste of the fried rice that was created by a concubine who knew her tastes and girl that are always full of spirit?
RAW Manga Hana China Volume 01-19 | 華中華 -ハナ・チャイナ- 第01-19巻
Volume 01_ _ – CatShare | RawFiles | FastStore | Mirror
Volume 02_ _ – CatShare | RawFiles | FastStore | Mirror
Volume 03_ _ – CatShare | RawFiles | FastStore | Mirror
Volume 04_ _ – CatShare | RawFiles | FastStore | Mirror
Volume 05_ _ – CatShare | RawFiles | FastStore | Mirror
Volume 06_ _ – CatShare | RawFiles | FastStore | Mirror
Volume 07_ _ – CatShare | RawFiles | FastStore | Mirror | FileOm | RS
Volume 08_ _ – CatShare | RawFiles | FastStore | Mirror | FileOm | RS
Volume 09_ _ – CatShare | RawFiles | FastStore | Mirror | FileOm | RS
Volume 10_ _ – CatShare | RawFiles | FastStore | Mirror | SubyShare | XerVer | FileOm | RS
Volume 11_ _ – CatShare | RawFiles | FastStore | Mirror | SubyShare | XerVer | FileOm | RS
Volume 12_ _ – CatShare | RawFiles | FastStore | Mirror | SubyShare | XerVer | FileOm | RS
Volume 13_ _ – CatShare | RawFiles | FastStore | Mirror | SubyShare | XerVer | FileOm | RS
Volume 14_ _ – CatShare | RawFiles | FastStore | Mirror | SubyShare | XerVer | FileOm | RS
Volume 15_ _ – CatShare | RawFiles | FastStore | Mirror | SubyShare | XerVer | FileOm | TF | OB | RS | UpLoaded
Volume 16_ _ – CatShare | RawFiles | FastStore | Mirror | SubyShare | XerVer | FileOm | TF | OB | RS | UpLoaded
Volume 17_ _ – CatShare | RawFiles | FastStore | Mirror | SubyShare | XerVer | FileOm | OB | UpLoaded | RapidGator
Volume 18-19 – CatShare | RawFiles | FastStore | Mirror | RyuShare | XerVer | UpLoaded | RapidGator