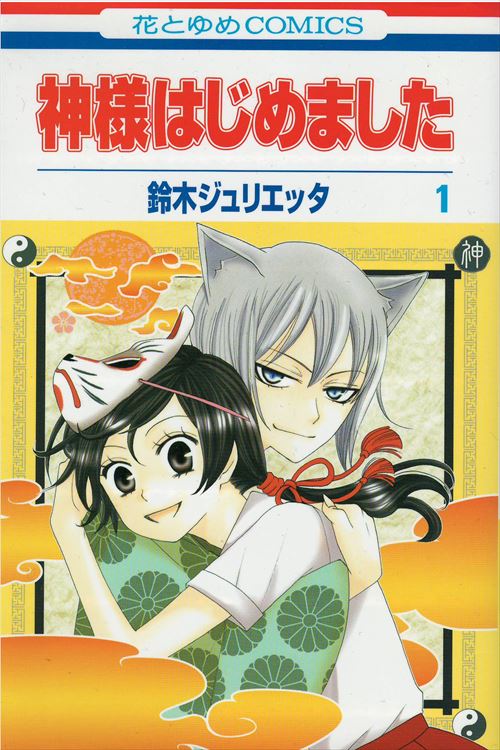 Alternative Name : 元气少女缘结神, 神様はじめました, 见习元气女神, Ciuman Dewa, Divine Nanami, Kamisama Hajimemashita, Kamisama Kiss, Nice to Meet You, Kamisama
Genre(s) : Comedy, Fantasy, Romance, School Life, Shoujo, Supernatural
Author : SUZUKI Julietta
Artist : SUZUKI Julietta
Years : 2008
Status in Country of Origin : 23 Volumes (Ongoing)
Momozono Nanami's dad, a man with a penchant for gambling, disappeared after accumulating a huge amount of debt. Thus, she was chased out of her house by the debt collectors. When she met a timid guy being chased by a dog, he told her that he'd give her his house. She believed his persuasive talk, but when she went to his house. it turned out to be a shrine. Moreover, a guy with fox ears appeared, which made Nanami even more confused. What will become of homeless and confused Nanami?
RAW Manga Kamisama Hajimemashita Volume 01-23 | 神様はじめました 第01-23巻
Volume 01 – CatShare | FastStore | Mirror | UpLoaded | RapidGator
Volume 02 – CatShare | FastStore | Mirror | UpLoaded | RapidGator
Volume 03 – CatShare | FastStore | Mirror | UpLoaded | RapidGator
Volume 04 – CatShare | FastStore | Mirror | UpLoaded | RapidGator
Volume 05 – CatShare | FastStore | Mirror | UpLoaded | RapidGator
Volume 06 – CatShare | FastStore | Mirror | UpLoaded | RapidGator
Volume 07 – CatShare | FastStore | Mirror | UpLoaded | RapidGator
Volume 08 – CatShare | FastStore | Mirror | UpLoaded | RapidGator
Volume 09 – CatShare | FastStore | Mirror | UpLoaded | RapidGator
Volume 10 – CatShare | FastStore | Mirror | UpLoaded | RapidGator
Volume 11 – CatShare | FastStore | Mirror | UpLoaded | RapidGator
Volume 12 – CatShare | FastStore | Mirror | UpLoaded | RapidGator
Volume 13 – CatShare | FastStore | Mirror | UpLoaded | RapidGator
Volume 14 – CatShare | FastStore | Mirror | UpLoaded | RapidGator
Volume 15 – CatShare | FastStore | Mirror | UpLoaded | RapidGator
Volume 16 – CatShare | FastStore | Mirror | UpLoaded | RapidGator
Volume 17 – CatShare | FastStore | Mirror | UpLoaded | RapidGator
Volume 18 – CatShare | FastStore | Mirror | UpLoaded | RapidGator
Volume 19 – CatShare | FastStore | Mirror | UpLoaded | RapidGator
Volume 20 – CatShare | FastStore | Mirror | UpLoaded | RapidGator
Volume 21 – CatShare | RawFiles | FastStore | Mirror | UpLoaded | RapidGator
Volume 22 – CatShare | RawFiles | FastStore | Mirror | UpLoaded | RapidGator
Volume 23 – CatShare | RawFiles | FastStore | Mirror | UpLoaded | RapidGator
Trial Book | TVアニメ化記念 試し読みBOOK – CatShare | RawFiles | FastStore | Mirror | UpLoaded | RapidGator